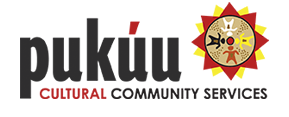 Pukuu Cultural Community Services One Stop Emergency Service Center
(818) 366-6105
Since 1971 Pukúu Cultural Community Services continues to serve 100% very low-income American Indian men, women and families in the Los Angeles County.
Pukuu serves nearly 200 new people each year, both single adults (20%) and families with children (80%).
One Stop Emergency Service Center
The One Stop Emergency Service (OSES) is a service provided by the Los Angeles County Community and Senior Services, Community Services American Indian Block Grant, and the Fernandeno Tataviam Band of Mission Indians to provide emergency assistance to low income American Indians who reside in Los Angeles County.
Fatherhood Journey
The Fatherhood Journey creates a sacred circle where fathers are given an opportunity to be more engaged in the lives of their children and serve as better role models.
Stronger Family Fund
The Stronger Family Fund is a new service to assist in the family fundamentals.
Rudy Ortega Sr. Scholarship Fund
From grassroots programs to youth and families activities, Pukúu has given and continues to provide scholarships to California American Indian students.
Website: www.pukuu.org